On 25th of April, Nepal was hit by a destructive earthquake and in that earthquake more than 5000 people have died.
According to the CBC news, in the capital of Kathmandu frustration of the people is increasing and they are getting out that damaged city as soon as possible.
Hundreds and thousands of people are fleeing away to their villages or families outside the valley.
An alive person was found by the rescuers, he's been with the dead bodies for about 10 hours.
According to Rishi, "my nails were all white and my lips were cracked, I thought I will die over here".
As people are getting out of the valley the government is offering free bus tickets to the remote villages but the buses are overflowing and the tickets are scarce.
Many of the people are the valley because of the disease that has been spread; many people are scared due to this.
Dr  Kumar said, "that this was the first disaster, but I do believe due to the fear of the people one more earthquake has yet to come".
More than 4,800 people dead. More than 9,200 injured. Eight million affected across Nepal. One million children urgently in need of help.
Those are the startling numbers that indicate the scale of the devastation from the huge earthquake that struck the Himalayan nation on Saturday.
And some of the grim figures are likely to get even worse as hopes of rescuing any more survivors diminish every hour.
Heartbreaking scenes of suffering and loss are playing out across this shell-shocked nation as it reels from its deadliest natural disaster in more than 80 years.
As the country coped with the fallout of the quake, another natural disaster struck Tuesday afternoon in a popular trekking area north of Kathmandu, and up to 200 people were feared missing as a result of a landslide, a trekking association official said.
It happened around 4 p.m. in Langtang National Park, said Ramesh Dhamala, president of the Trekking Agents of Nepal. Laxmi Dhakal, spokesman for Nepal's Home Ministry, said he was aware of reports about the landslide but wasn't immediately able to confirm details.
Quake relief efforts continued Tuesday, but officials warned that they were hampered by problems of getting aid into the country and then delivering it to some of the remote communities in desperate need.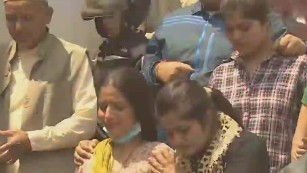 In Kathmandu, a capital city of shattered temples and toppled houses, some people paid their last respects to loved ones taken by the quake.
By the Bagmati River, which winds through the city, more than a dozen funeral pyres burned Monday.
As workers stoked the flames for the Hindu cremation ceremonies, some mourners shaved their heads in a traditional show of mourning from children who lose their parents.
Alongside their father, two teenage brothers from the Gurung family, Ishan and Iman, said goodbye to their mother, Ishara.
"We never imagined this would happen to us. This much pain," said Ishan, the elder of the two.
'Many people are crying'
Elsewhere in the city, many shaken residents are sleeping in the open. Some have lost their homes, others are afraid to stay in buildings that may be vulnerable to aftershocks.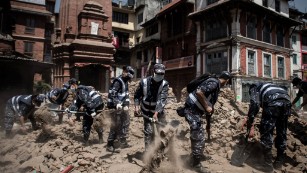 Large encampments of tents have sprung up in open areas, including a wide space belonging to the military in the center of the city that is typically used for parades. One of the grand gates to the field is now just a pile of rubble.
Kisnor Raj Giri, a 22-year-old man from Kathmandu who lost members of his extended family in the quake, said he was too scared to return home.
He is camping out at the military grounds with thousands of others even though frequent rain has made the nights an ordeal.
"Many people are crying, sharing their hardships," he he said Monday evening.
The elements showed no mercy to the homeless masses on Tuesday as thunderstorms rumbled over Kathmandu. More bad weather is forecast for the region in the coming days.
But in one piece of good news, Turkish and Chinese rescue crews helped pull free a 21-year-old man trapped under rubble near a city bus park in a 13-hour rescue operation.
Official: Death toll expected to rise
The death toll has now climbed to 4,768 in Nepal, the country's National Emergency Coordination Center said early Wednesday, as rescue and relief efforts continue. Another 72 people died in India, while China has reported 25 deaths.
Nepal army Lt. Col. A. J. Thapa told CNN's Sumnima Udas that the first 72 hours after the earthquake is the time when the most lives can be saved.
"This is not the time to rest and lament," he said. "This is the time to go out and save lives."
Thapa said an entire military post was lost during an avalanche.
"Remember we are not an outside force that has been parachuted into an area to help," he said. "We are victim ourselves. … Despite the fact that soldiers have their families and houses are down, we are trying to build morale, maintain morale and help themselves."
Thapa said it was fortunate that the quake struck during daylight on a weekend.
"Children were not trapped in big schools somewhere and lot of people were outside because it was daytime," he said.
A Destructive Earthquake Hits Nepal.